Gas Generator Sets with Perkins Engines
Gas Generator Sets with Perkins Engines
RN - P Series Natural Gas Generator Sets, Perkins engines 230/400V 50HZ
RB - P Series Biogas Generator Sets, Perkins engines 230/400V 50HZ
Compact structure, easy installation and simple maintenance;
All key parts are made of corrosion-resistant stainless steel, prolonging service life;
High power efficiency, reliable and stable operation, having no hour-use limit on 100% load operation;
Low fuel consumption;
Excellent durability, major overhauls are required every 64000 running hours;
4000 series diesel generator parts can be used interchangeably, greatly lowering maintenance cost;
Standard Features (for reference only)
Westinpower provides one-stop service to meet all customers' needs of power generation system and components.
All generator sets and components undergo rigorous prototype testing, precise manufacturing and strict inspection.
Warranty: 18 months from date of shipment, after 1000 hours of running, or 1 year from the date of initial startup (whichever comes first).
Options of imported engine that complies with EU and US EPA emission standards are available. The majority of domestic brand engines meet the requirements of the national Stage III emission standard, and some generator engines from domestic brands can meet US and European emission standards, such as Yuchai engine. Please see the file "Comparison of US, EU and China emission standards for diesel engines used in non-road mobile machinery (NRMM)".
US EPA Tier emission standards: Tier1, Tier2, Tier3, Tier4 Interim, Tier4 final
EC Stage emission standards: Stage I, Stage II, Stage IIIA, Stage IIIB, Stage IV
China (Nonroad) emission standards: Stage II, Stage III
Other Features (for reference only)
Optional ATS (Automatic Transfer Switch) automatically switches between the gas generator and mains in the case of a power failure.
WASS (Westinpower Auto Synchronization System) enables multiple gas generator sets to be synchronized and connected in parallel.
Double stacking of generator sets maximizes the utilization of single shipping container' volume.
Alternator Features
The alternator converts mechanical energy of water turbine, steam turbine or internal combustion engine into electrical energy in the form of alternating current.
The generator alternator works on the principle of electromagnetic induction and electromagnetic force. It makes use of external rotating power to produce an electrical current induced in the conductive material using the electromagnetic induction method.
Optional alternator brands
Features of these alternators
All these alternators are suitable for land and marine applications.
Stamford alternator: Cummins Generator Technologies was founded in 1904, it produces alternators under the Stamford® brand which has set the industry standard. Stamford alternator utilizes wire-wound (random winding) technology and with a power range extending from 4kVA to 5000kVA, suitable for nearly all generator set configurations.
Leroy-Somer alternator: 4-pole alternator conforms to the key international standards and regulations below: IEC 60034, NEMA MG 1.32 - 33, ISO 8528/3, CSA, UL 1446, UL 1004. It can be integrated into CE marked generator sets.
Sinocox alternator: compliant with national and international standards such as IEC60034, NEMA MG1-22, IS08528, CSA C22.2-100, VDE 0530, GB755, etc. Power range of 8.1kVA-2790kVA.
SGC 420 Controller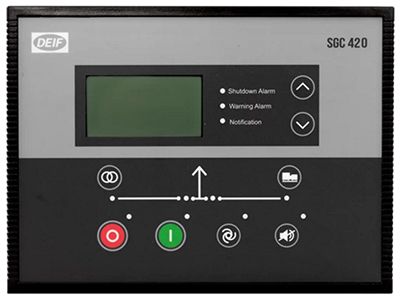 The SGC 420 controller has an advanced battery charge management capability and is specially designed for AMF applications with a mechanical and electronically controlled engine (CANbus).
Standard Features
Support automatic, manual and remote start/stop modes;
Can supervise engine safety, electrical load, site battery backup voltage and shelter temperature to cut down on fuel consumption.
The real time clock (RTC) precisely logs up to 100 events and conducts data analysis.
Auto exercise mode (2 events) allows to start and stop the generator set for for a preconfigured time.
Built-in electronic speed governor is adopted for variable-speed monitoring.
Able to monitor voltage, frequency, load current and power factor of the generator set.
Provided with digital outputs of start relay, fuel relay, alarm horn and more.
Counters for engine starts, engine trips, engine running hours, generator set kWh, kVAh, kVArh and Mains kWh, kVAh, kVArh.
Communication Features
Modbus RS485 is available.
Various parameters can be easily configured by connecting to a PC through the USB Type B port and using DEIF Smart Connect utility software.
CAN ports are available for engine communication.
Programmable Functions
7 analogue inputs, all configurable
9 digital inputs, all configurable
7 digital outputs, all configurable
AGC150 Controller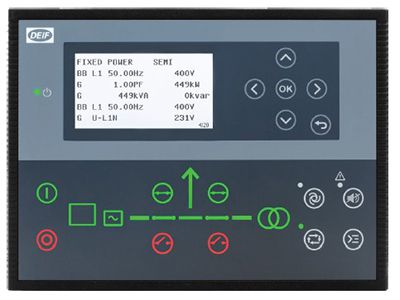 The AGC150 controller is a microprocessor-based digital programmable control unit that has all of the functions needed to control and protect a generator set, a mains breaker and a bus tiebreaker. It can be used individually to control one generator set, or in combination with multiple controllers as a part of a complete power management system for synchronizing projects, islanded or paralleled to the mains.
Standard Features
It can be used as a single control unit for one generator set, or in combination of up to 32 controllers as a part of a complete power management system for synchronizing projects, islanded or paralleled to the mains.
All necessary 3-phase measuring circuits are contained in the controller, and all values and alarms are shown on the sunlight readable LCD display.
Hybrid power support: generator controller in the micro-grid system and DEIF ASC-4 controller (PV and Battery).
Graphical display: important information of generator set and system can be easily accessed and viewed.
Built-in analogue AVR and GOV control, eliminating the need for additional equipment (voltage and PWM).
The controller can work together with the latest electrical Tier 4 Final engine, and display values required by emission standards.
It supports emulation for testing and frontload commissioning.
Up to 500 events (can be exported to a CSV file), and up to 500 alarms (can be exported to a CSV file).
Communication Features
Engine communication can be achieved via CANbus.
Communications ports are available in USB, RS485 and Ethernet ports.
Programmable Functions
12 digital outputs (configurable)
12 digital inputs (configurable)
2 analogue outputs (-10 to 10 V)
4 multi-inputs:
▫▫Resistor, 0 to 4000 Ω
▫▫Voltage, 0 to 10 V
▫▫Current, 4 to 20 mA
▫▫Digital input
PLC function
Support CIO modules: AGC 150 controller supports CANbus based I/O, increasing the number of inputs and outputs.
50Hz Natural Gas Generator Set
N0.
Genset Model
Rated Power
Engine Model
Cylinder
Bore*Stroke (mm)
Displacement (L)
Dimensions
kW
kVA
L*W*H (mm)
1
RN385P
307
385
4006-23TRS1
6/L
160*190
22.92
3780*1720*2220
3
RN470P
375
470
4006-23TRS2
6/L
160*190
22.92
3780*1720*2220
4
RN510P
408
510
4006-E23TRS4
6/L
160*190
22.92
3780*1720*2220
5
RN530P
424
530
4008-30TRS1
8/L
160*190
30.56
4380*1850*2350
6
RN625P
500
625
4008-30TRS2
8/L
160*190
30.56
4460*1850*2350
7
RN1100P
875
1100
4016-61TRS1
16/V
160*190
61.00
5560*2600*2960
8
RN1250P
1000
1250
4016-61TRS2
16/V
160*190
61.00
5660*2600*2960
50Hz Biogas Generator Set
N0.
Genset Model
Rated Power
Engine Model
Displacement (L)
Dimensions
Weight
kW
kVA
L*W*H (mm)
(kg)
1
RB385PT
307
385
4006-23TRS1
22.92
3780*1720*2220
4960
2
RB388PT
310
388
4006-E23TRS3
22.92
3780*1720*2220
4960
3
RB470PT
375
468
4006-23TRS2
22.92
3780*1720*2220
5138
4
RB510PT
408
510
4006-E23TRS4
22.92
3780*1720*2220
5138
5
RB530PT
424
530
4008-30TRS1
30.56
4380*1850*2350
6591
6
RB625PT
500
625
4008-30TRS2
30.56
4460*1850*2350
7004
7
RB1100PT
875
1094
4016-61TRS1
61.00
5560*2600*2960
11536
8
RB1250PT
1000
1250
4016-61TRS2
61.00
5660*2600*2960
11998
Notes:
1. 50Hz/1500rpm generator set, voltage 400V/230V;
2. Perkins gas engine with standard ignition system;
3. Gas supply pressure below 50Kpa;
4. Dungs valve;
5. Vertical water tank;
6. You need to provide us with the composition of special gas;
7. If you have special requirements on the project, we can modify the configurations after consulting with our technicians;
Gas Generator Sets with Perkins Engines